Your ethereum transaction history can be accessed by clicking Ether in the menu on the left. All ethereum transactions you have sent and received will be displayed, and additional information about individual transactions can be accessed from this section of your wallet.

Start by clicking on a transaction. You can see that the transaction is either confirmed or pending on the bottom left. If you move your cursor over the box with the arrow to the left of Transaction Confirmed you will see the following: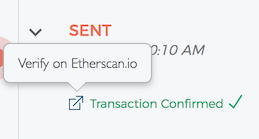 Clicking on this box will take you to the actual transaction on the ethereum blockchain. Our wallet will redirect you to a third party site called Etherscan.io, but you can use any ethereum block explorer to verify this information.