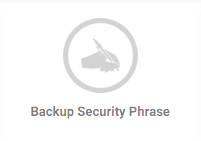 Making a backup of your wallet helps ensure you can always maintain access to your funds. If you haven't backed up your wallet yet, the following will display when you click on this step:
If you ever need to use your recovery phrase, your funds will be recovered into an entirely new wallet, and a new Wallet ID will be generated for you. This recovery process works similarly with a number of other bitcoin wallets that support this feature.
Your phrase will grant anyone access to your bitcoins, so we strongly recommend storing it offline in a secure place.
To find out more about why making a backup is so important, check out this blog post. 
When you click on Backup Phrase, you'll see the following: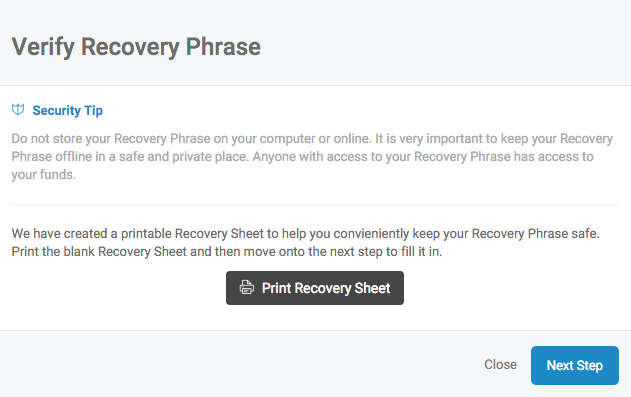 Click on Print Recovery Sheet to download a PDF template that you can print out and use to handwrite your recovery phrase. If you are unable or choose not to print the template, please ensure you write down the words in the same numerical order.
To proceed with writing down your phrase, click Next Step.

Before proceeding to the next group of 4 words, please check to make sure you write these down correctly, in the exact order. Misspelled or misplaced words will result in lost funds.
Once you've written down the last 4 words, click on Final Step to verify your phrase.

The last step requires you to verify a random selection of 4 of the words in your phrase. If this step is completed correctly, your Security Center score will increase, and your wallet will be backed up.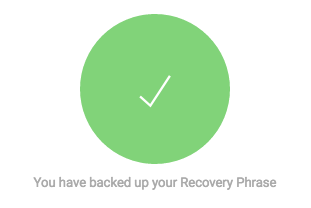 Note: Imported addresses are not backed up by the wallet recovery phrase. We strongly recommend you to transfer funds from imported addresses into this wallet by going to Settings -> Addresses -> Imported Addresses -> Transfer All.