Blockchain.com Wallet users in supported US states can now buy with instant USD ACH transfers. Many banks do not charge a fee for ACH transfers, so these can be great for quick, cost-effective transfers (please check with your bank regarding any transfer fees). Step-by-step ACH instant transfer instructions can be found here. To deposit via wire transfer, please follow the instructions below.
1. To deposit USD, first select your U.S. Dollars wallet from your Wallet's dashboard (home screen). Currently, USD deposits and withdrawals are available in the web wallet, but they'll be coming to our iOS and Android mobile wallets soon!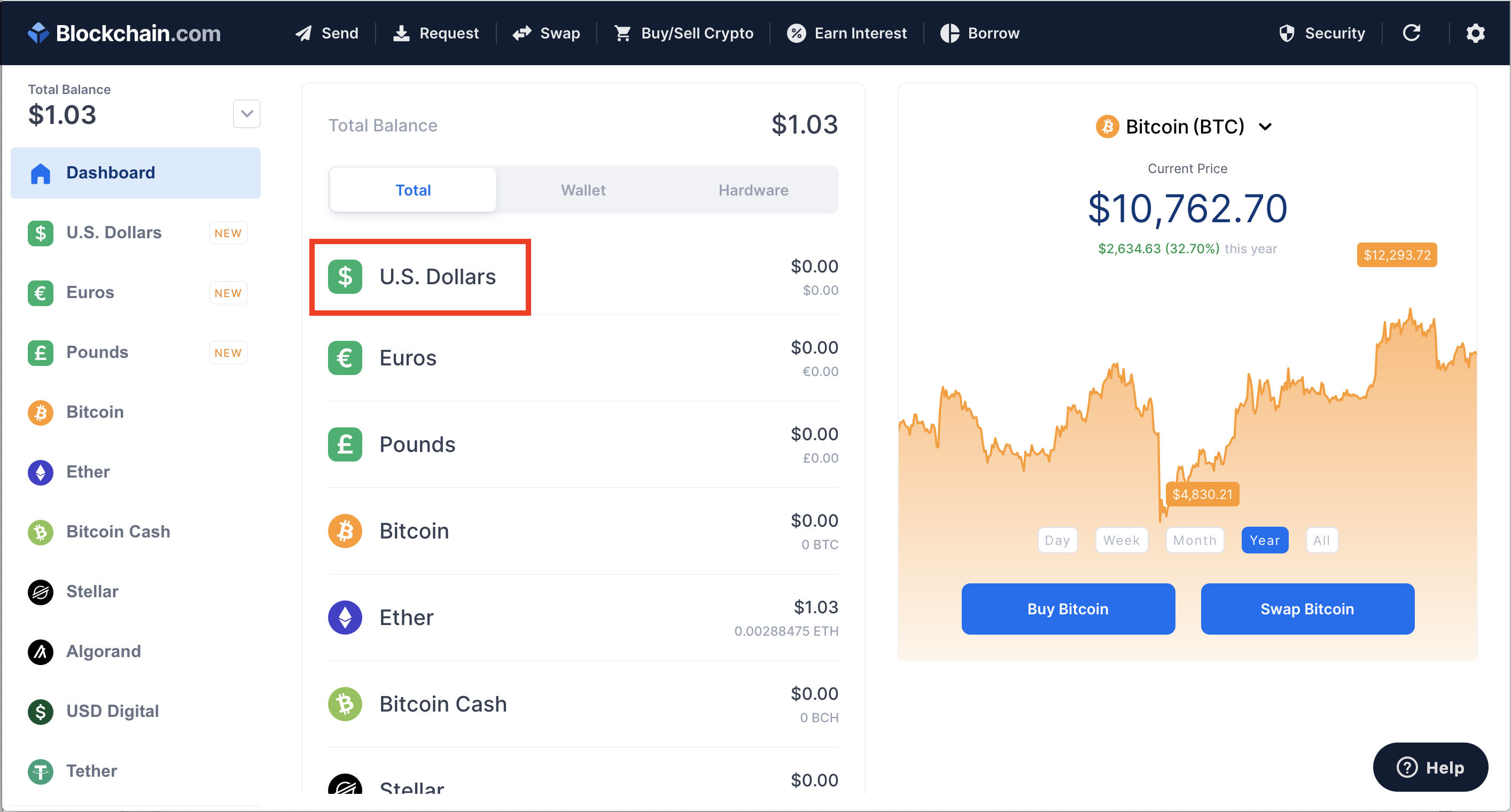 If this will be your first Blockchain.com Buy Crypto order, and you have not previously been approved for Gold level verification, you may not see a U.S. Dollars Wallet on your Wallet's home screen. Not to worry, simply click "Buy/Sell Crypto" at the top of your Wallet, select the currency and amount you would like to purchase, and you will be taken to the easy identify verification process. The identity verification process generally takes a few minutes but may take longer if your case requires manual review; you will need to input some information about yourself, and upload a legal document (such as a passport) and a selfie.
2. Next, once on your U.S. Dollars wallet, you can select "Deposit," in the upper right corner, or, if this is your first deposit, you can select "Deposit U.S. Dollars Now" in the middle of the page.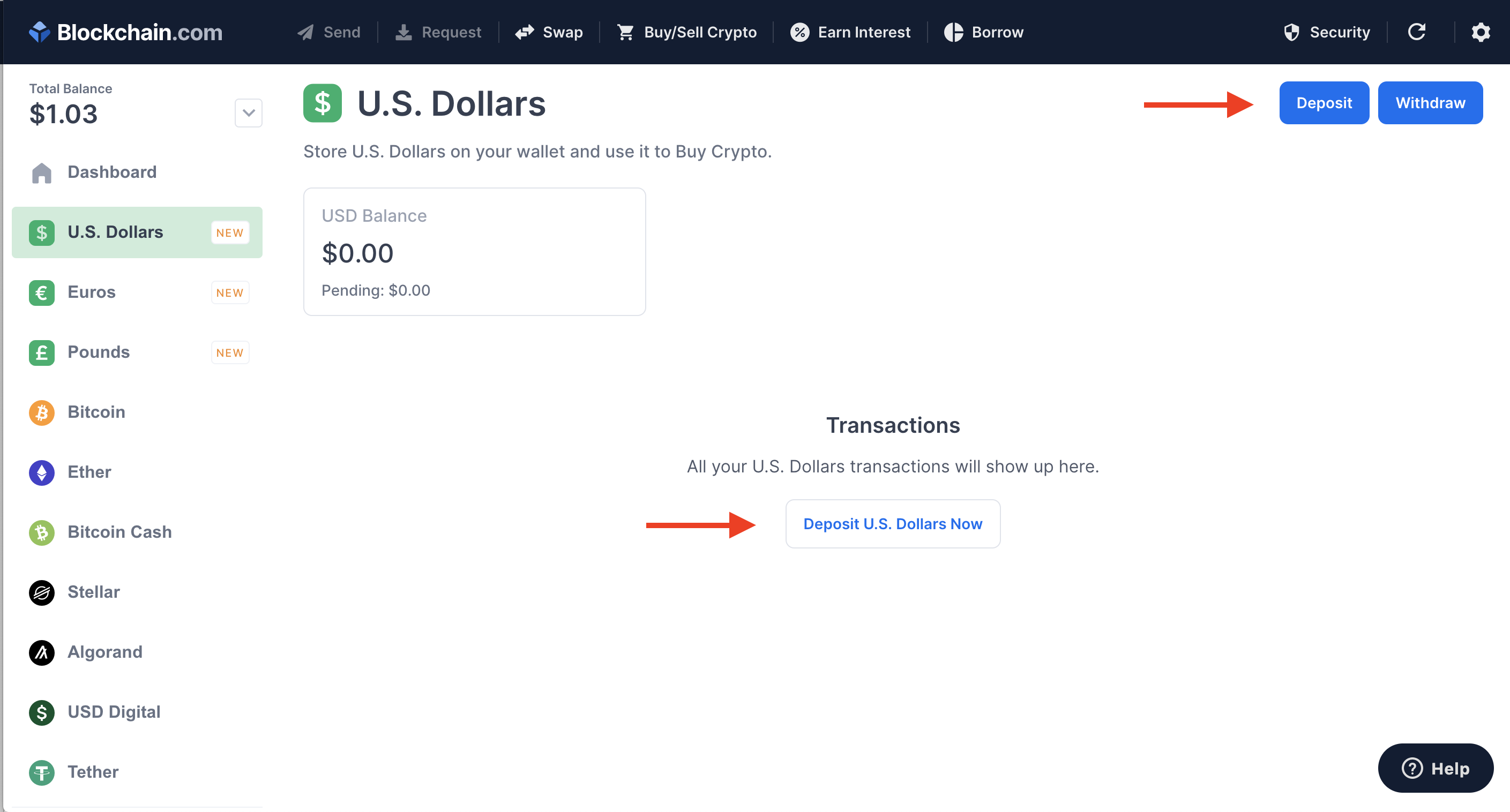 3. Click Select A Deposit Method and choose Wire Transfer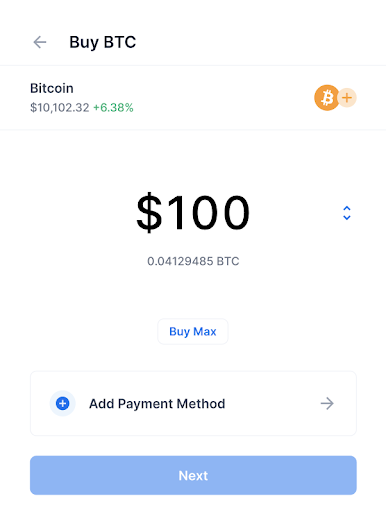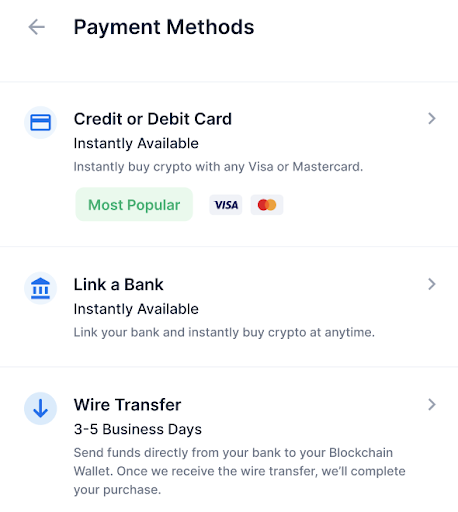 4. Your unique deposit details will be shown here. Please note, this is not a bank account under your name; it is a unique virtual reference. On the deposit screen you will be shown detailed wiring instructions including your unique reference number, the account number, and the routing number. If your bank is based in the USA please select Domestic; for banks outside of the USA please select International.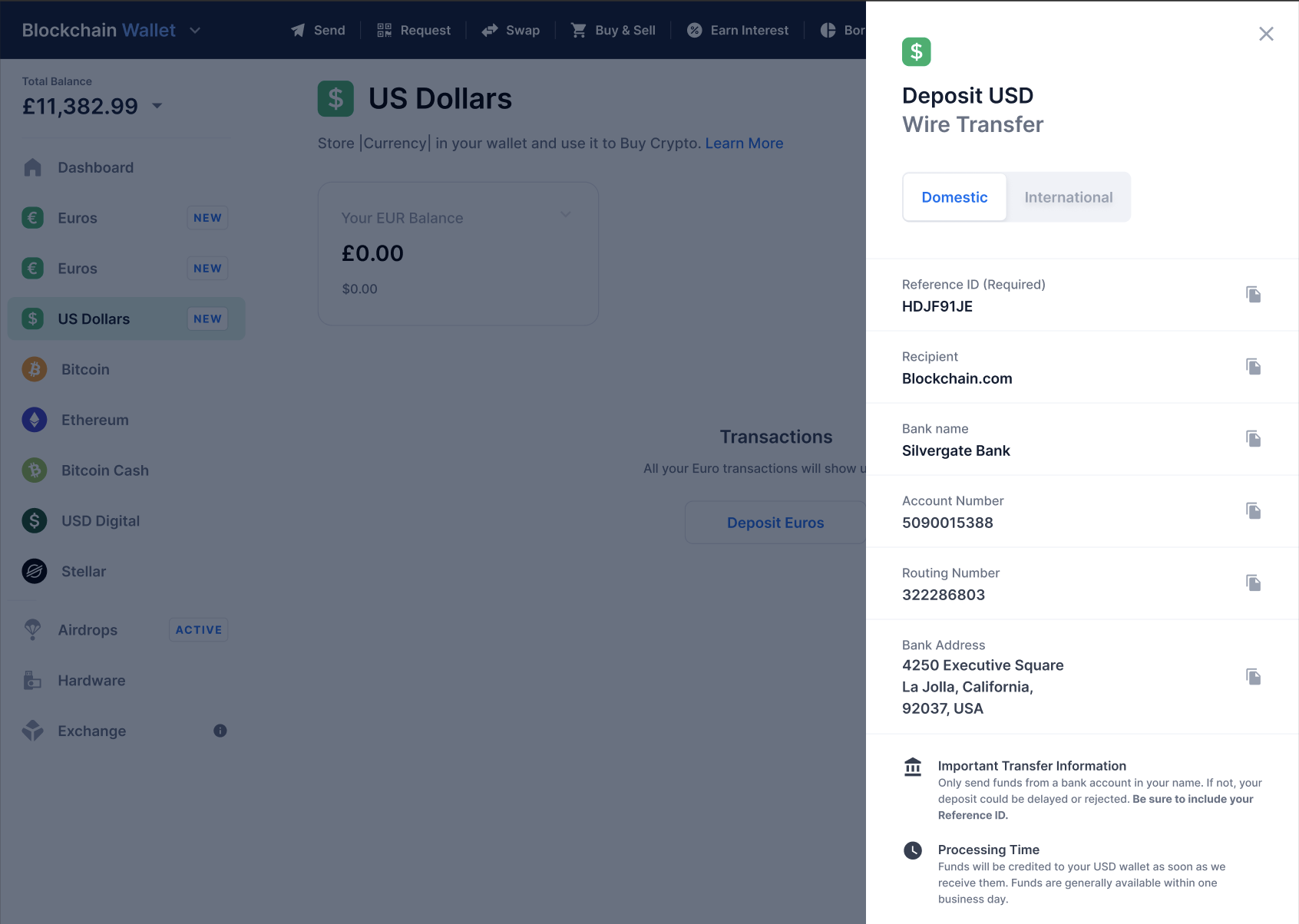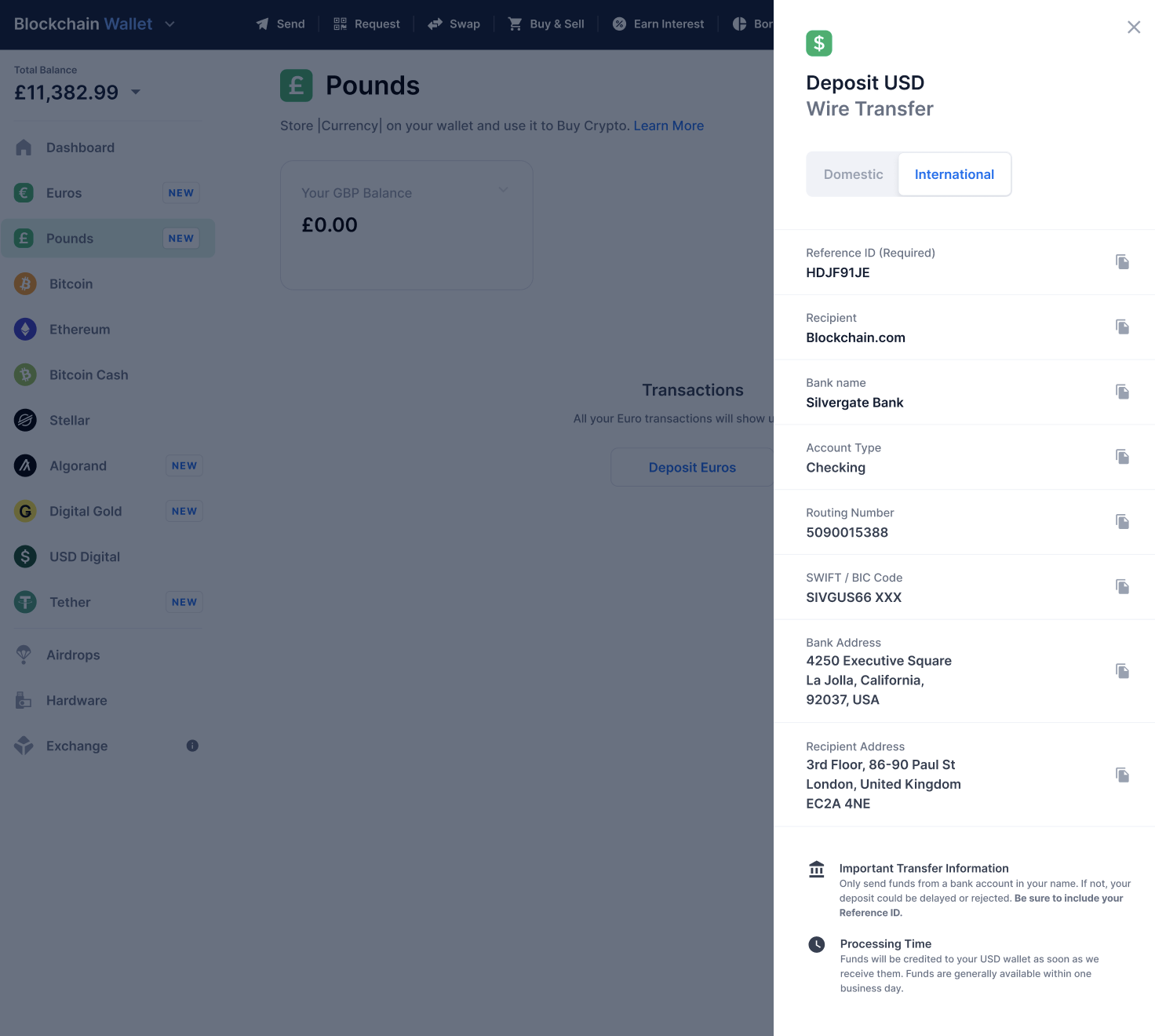 5. Use your USD mobile banking app or bank account website to send a transfer from your bank account to the deposit details displayed in your wallet (not the details displayed in these example images). Alternatively, you can call or visit your bank in person to execute a wire transfer. See image below for an example: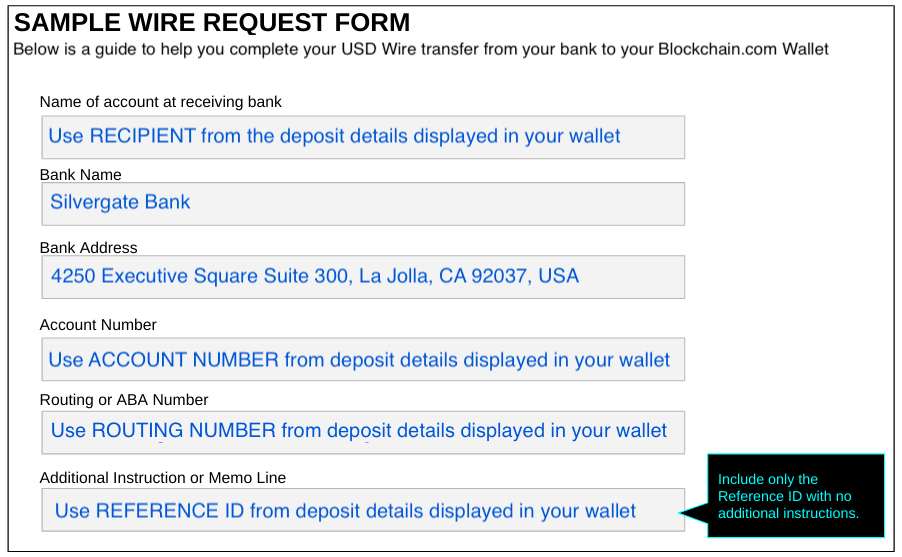 6. Wires being sent from outside of the US typically take 2 business days to process. Domestic US wires generally take one business day to be reflected in your account. If you have not received the funds after 3 business days, please reach out to our Support team here and we will be happy to assist.
**Please note:
The minimum USD wire withdrawal is currently $2,500. There is a withdrawal fee of $25 for Domestic transfers, and a withdrawal fee of $30 for International transfers. We do not charge a deposit fee, but please note that your bank may charge a fee for your transfer.
Only users with a Gold Verified wallet in a supported region are eligible to deposit USD into their accounts. If you have not applied for Gold verification, please use this guide to help you through our verification process.
The name on your Gold verification must be an exact match with your bank account, in order for your wire to be successful. In addition, it's extremely important that you include your Unique reference number with your wire. Not including this could cause your wire to fail.
Although we do accept ACH deposits, you will not be able to link your bank account with this payment method to make withdrawals. Bank linking for withdrawals will only work via Wire Transfers. In order to link a bank account for withdrawals, you will have to first make a small wire transfer from the account you would like to link for withdrawal.
We generally do not accept deposits from Third-Party Payment Processors. For more information about Third-Party Payment Processors please click on this link.