The order book is a critical tool for traders in the world of finance, providing valuable insights into market dynamics and sentiment. It displays real-time buy and sell orders for a particular asset, revealing the depth of the market and helping traders make informed decisions.
What is an Order Book?
An order book is a live record of all buy and sell orders for a specific asset. It is usually displayed as a table on the right to the chart, presenting different price levels and the corresponding quantities of an asset being bought or sold at each level. The two main components of an order book are the "bid" and "ask" orders.
Ask Orders (Red): These represent sell orders from traders who want to offload their assets at a specific price. Ask orders are listed in descending order, with the highest ask at the top. Traders submitting lower ask prices are more eager to sell, and their orders take precedence over higher asks when matching with buy orders.

Bid Orders (Green): These represent buy orders from traders who are willing to purchase the asset at a specific price. Bid orders are listed in descending order, with the highest bid at the top. Traders submitting higher bids are more eager to buy, and their orders take precedence over lower bids when matching with sell orders.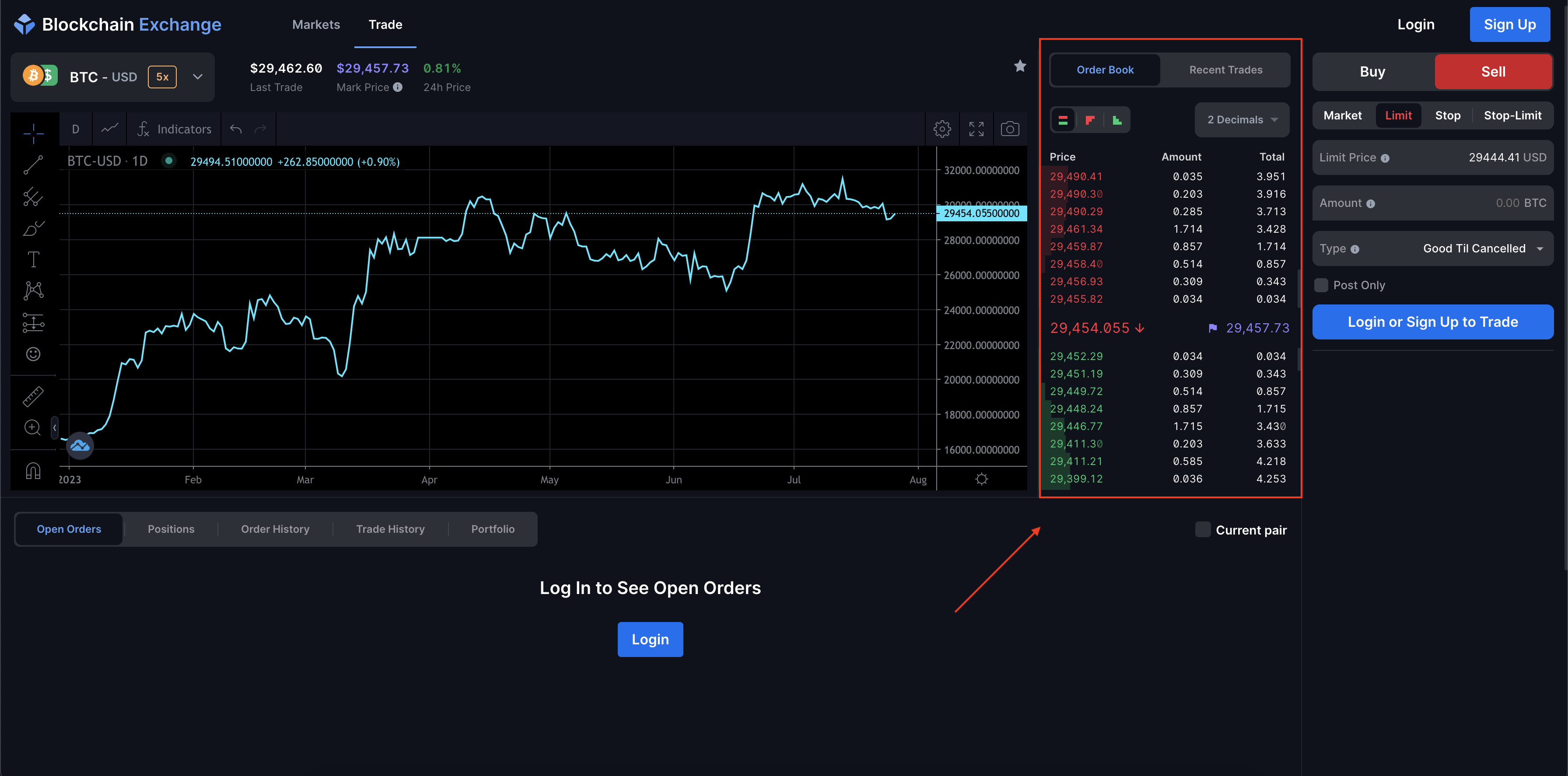 Market Depth and Liquidity
The depth of the order book reveals the liquidity of an asset, which refers to the ease of buying or selling without significantly impacting the asset's price. A deep order book with a high number of orders at various price levels indicates higher liquidity, making it easier to execute trades without causing substantial price movements.
Analyzing the Spread
The "spread" is the difference between the highest bid and the lowest ask in the order book. A tight spread suggests a liquid market, as the difference between buying and selling prices is small. Conversely, a wide spread indicates a less liquid market, where traders may face challenges when executing large orders.
Mastering the art of reading the order book is a valuable skill for traders looking to make informed decisions and navigate the dynamic world of finance. By understanding the bid and ask orders, market depth, and liquidity, you can develop effective trading strategies and stay ahead of market trends.
Remember that the order book represents real-time data, and market conditions can change rapidly. Continuous monitoring and analysis of the order book will empower you to make well-informed trading choices and enhance your overall trading experience.
If you have any questions - feel free to contact our support team here.