Our goal is to make proving your identity quick, easy, and safe.
This article will walk you through the process from start to finish.
Ensure that your ID is valid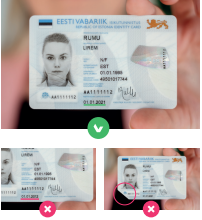 Your passport, ID card, residence permit, or driver's license will usually do the trick. Make sure your ID is not expired or physically damaged. You must also use the physical document for your verification as photocopies and printouts are not permitted.
Use a working camera with a decent internet connection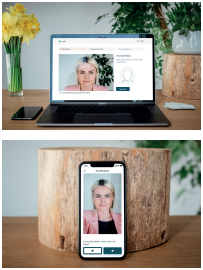 Newer smartphones tend to have great cameras, but tablets and laptops also work well. Just uncover the camera, clean the lens, and, if possible, use Google Chrome as Blockchain is optimized to work well on this browser.
Be quick, but don't rush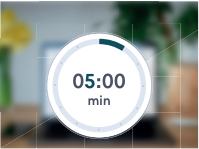 Have your ID handy, because you'll have about five minutes to show it before the session closes. The limit is there for your protection, not to stress you out (we promise).
Use your full legal name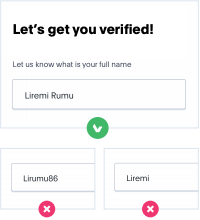 It is important to use your full name exactly as it shows on your ID when creating an account with us We may need to manually review any discrepancies that the system detects. This will prevent you from being automatically verified at the end of the session which will delay a decision on your account.
Use good lighting when taking photos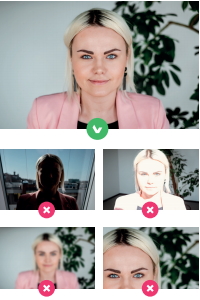 Dark rooms and strong background light result in low-quality photos that are tough to analyze
Take sharp, readable photos of your ID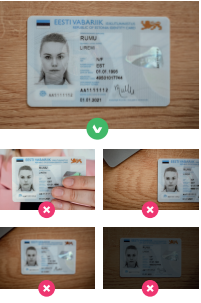 Keep an eye on the screen and make sure the entire identification document fits in the markers. This helps us to verify you faster.
If the photo you take is blurry or poorly lit, click Try again and take a better one.
Photograph both sides of your ID
If you're using an ID card, driver's license, or residence permit to verify your identity, please photograph both sides of the card or paper. Don't worry, we'll walk you through the process.
If you're using a passport, photograph your passport photo page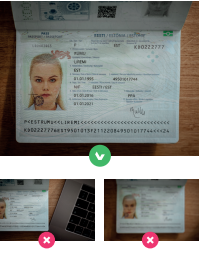 Take a picture of your passport photo page. It's the main spread with your picture, personal details, and other data necessary for verification. The example above doesn't apply to all passports however, in some cases you will need to include both pages of your passport so please make sure this is visible in your picture if necessary.
Selfies with your selected ID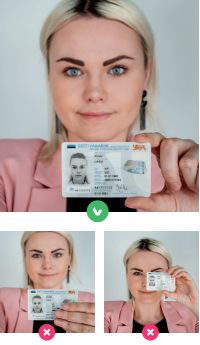 You may be asked to take a selfie of yourself with your selected ID. During this step, make sure your ID card, driver's license, residence permit, or passport and face are fully visible and in focus.
If you will experience any issues with the verification process, please get in touch with our support team and we will be happy to help you out!