Using Blockchain.com Exchange Mobile App
Please follow the tutorial below in order to learn how to fund your account in an easy manner.


Using Blockchain.com Exchange Web Page
To deposit Cryptocurrencies to your Blockchain Exchange account, navigate to your Total Account Value window and click on Deposit.





Select a supported cryptocurrency from the drop-down menu to bring up your deposit address. Copy your deposit address and paste it into your third-party wallet or exchange.





If you have a

linked Blockchain Exchange and Wallet account, click on Deposit from your Blockchain.com Wallet as shown above to go to your Blockchain Wallet withdrawal screen

If you don't have a linked account, log into the wallet or exchange you plan to send the funds from and use the address found here as shown below. Enter the amount you wish to send and click Continue.



If you are asked to enter a network fee as shown below, we would advise using a regular-sized fee or you run the risk of your transaction taking several days to confirm as opposed to a few minutes.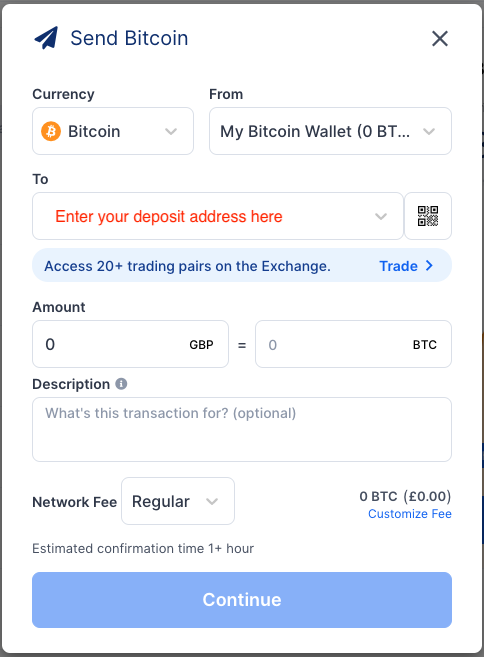 When the withdrawal is complete, you can check your deposit history to see if your transaction is being processed by clicking at the icon at the top of the page Order History > Deposits.

Your transaction will show as COMPLETE once the funds have been confirmed on the network.
Important things to note
Cryptocurrency Transactions can take up to an hour on average to confirm on the network, but may take even longer depending on the transaction size and congestion on the cryptocurrency network.

For every Cryptocurrency Deposit & Withdrawal, To & From the Blockchain Exchange, you will incur a fee. For more information on Cryptocurrency Transaction fees please click on this link.

Your wallet password, private keys, and backup/recovery phrase are never shared with Blockchain Exchange.

For XLM deposits you must include your Deposit Memo or your funds will be lost. Click here to learn more about Memos.

The minimum Deposit amount for Polkadot (DOT) is 1.

Deposits of USDC or USDP will be credited to one's USD balance.