Using Blockchain.com Exchange Mobile App
Learn how to withdraw your crypto on your mobile device please watch the following video:


Using Blockchain.com Exchange Web Page
In order to withdraw cryptocurrencies from your Blockchain Exchange account, please navigate to your Total Account Value window and select Withdraw.



Select one of our supported cryptocurrencies from the drop-down menu to bring up your withdrawal window, as an example we have selected Bitcoin. Don't forget to add a memo if needed, otherwise, the funds sent might be lost.Enter the amount you wish to withdraw along with your Two-Factor Authentication Code to withdraw your funds. If you want to withdraw your funds to an external address instead please follow the next step.





Log in to your third-party wallet or exchange account to retrieve your deposit address, we will use our Blockchain Wallet as an example for a third-party withdrawal.

Once you are logged in you will need to navigate to the deposit section of your account, you will then need to copy the deposit address for that account and use it as the withdrawal address on your Blockchain Exchange account.



Paste your withdrawal address into theDestination Address tab, enter the amount you wish to withdraw along with your Two-Factor Authentication Code, and select withdraw.





You also have the option to enable whitelisting as shown in the screenshot above, this security feature is recommended to limits withdrawals only to addresses you have whitelisted or to your Blockchain Wallet address. Click on

Enable Whitelisting

and you can save the addresses you want to use in future here.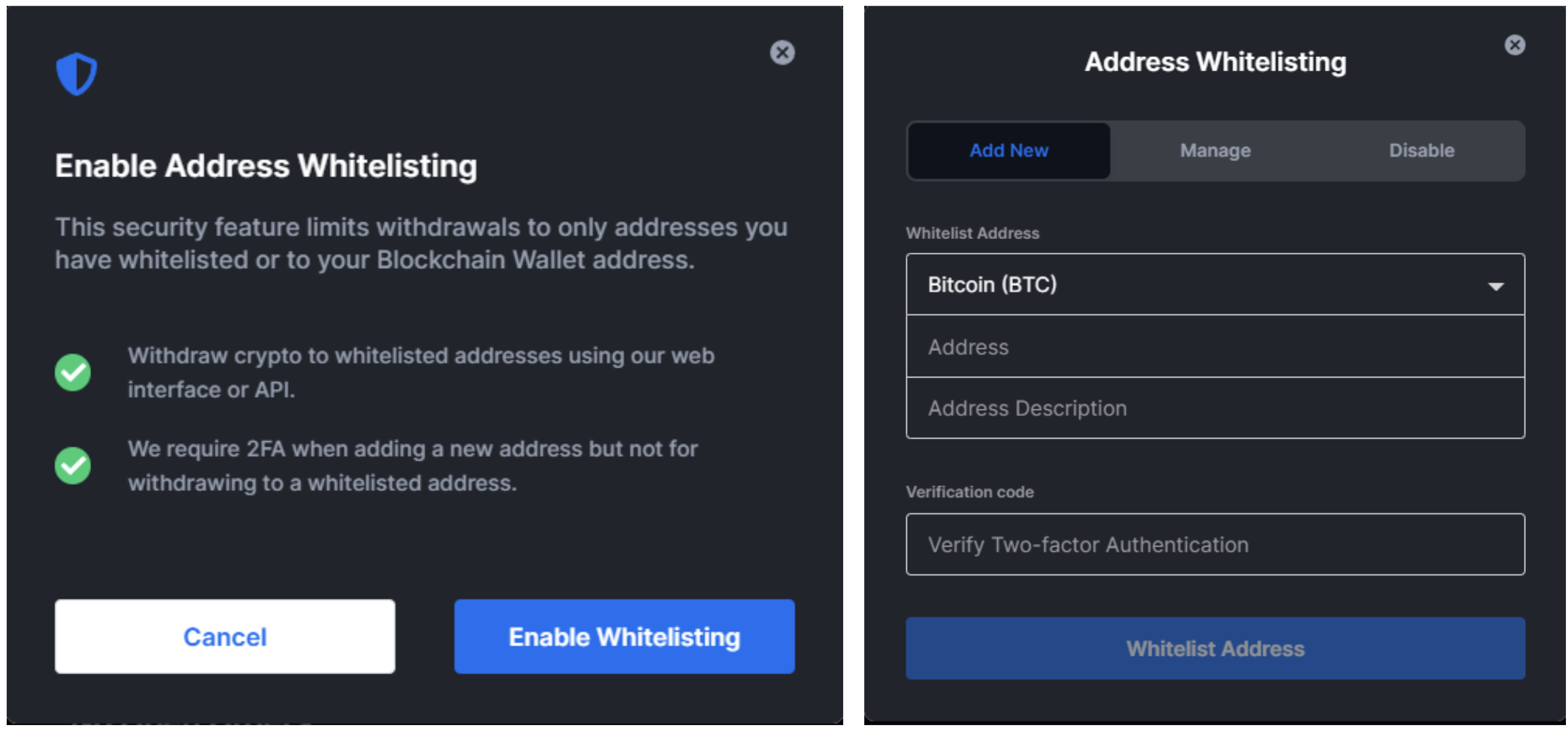 Please Note:

- Cryptocurrency Transactions can take up to an hour on average to confirm on the network but this may take even longer depending on the transaction size and congestion on the cryptocurrency network. If this happens to you, it is completely normal and there is no need to panic! Just copy the transaction ID, or receiving address and search for it in the relevant crypto explorer. If you are searching for BTC, Bitcoin Cash, or the Ethereum transaction, feel free to use the Blockchain.com native Explorer:here.

Do not hesitate to reach out to our support team and we can check your account to make sure everything is ok.


- For every Cryptocurrency Deposit & Withdrawal, To & From the Blockchain Exchange, you will incur a fee.


- Your wallet password, private keys, and backup/recovery phrase are never shared with Blockchain Exchange.


- For STX and XLM withdrawals you may need to include a Memo/tag or your funds will be lost. Please contact your third-party wallet or exchange to check if this is needed.