Using Blockchain.com Exchange Mobile App
Learn how to deposit from your bank account with the following video:


Using Blockchain.com Exchange Web Page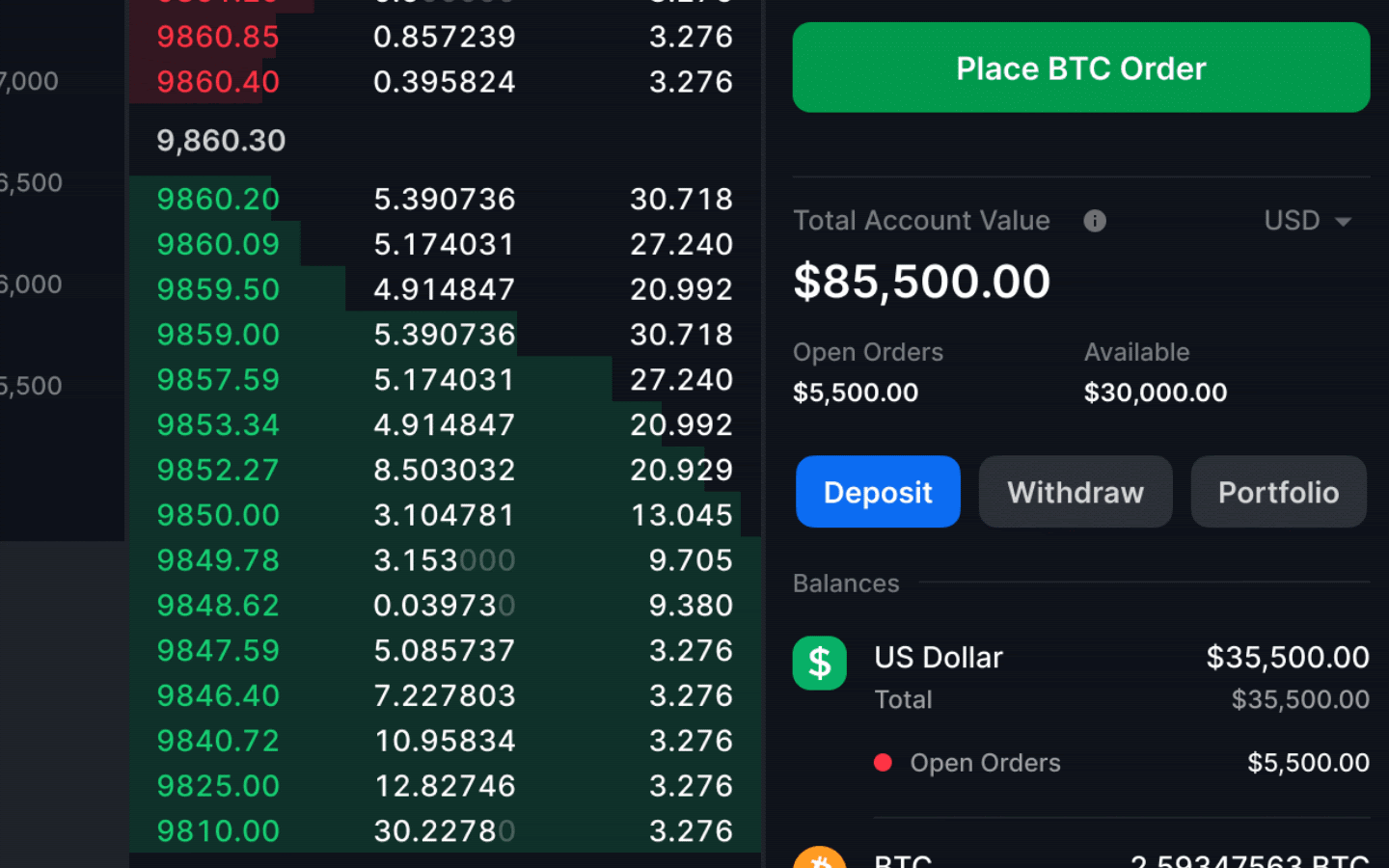 With ACH instant transfers, Blockchain.com Exchange users in supported US states can now deposit USD via ACH and have the funds available in their accounts instantly.
Many banks do not charge a fee for ACH transfers, so these can be great for quick, cost-effective transfers. Check with your bank for transfer fees.
When linking a bank account for ACH transfer, we recommend linking a checking account to avoid potential transfer reversals or other complications.
If you previously linked a bank account before November 2022, you may need to relink it to enable subsequent transfers.
Another way to quickly fund your account is to deposit either USDC (USD Coin) or USDP (Pax Dollar). The funds will be credited to your USD balance at a 1-to-1 rate with no fees or maximum limit.
Linking your bank account
Navigate to the Total Account Value section on the right side of the screen and click Deposit.




Select USD, enter the amount you wish to deposit, and click Select A Deposit Method.

Click Bank Account and press Continue.




Choose your bank from the list of major banks or use the search bar to search for your bank.



After selecting your bank, enter your online banking username and password. If required by your bank, complete your bank's 2FA. The exact linking process may vary, depending on your bank
.



Select which account you would like to link.

Wait up to 30 seconds for your account to link. Please do not go back or close the window.




Congratulations, your bank account is linked! To make an instant deposit, press Continue. If your account was not successfully linked, please see this article for more information.

Making an Instant Deposit from your linked bank account
If you've just now linked your account following the above instructions, you will be returned to Select a Deposit Method screen, where you can select your linked bank account. Please see step 2 below.

If you've previously linked your account and would like to make an instant deposit, Navigate to the Total Account Value section on the right side of the screen, select Deposit, enter an amount, and click Select A Deposit Method.

.


Choose your linked account.




Confirm the details and press Continue.




The following notification will be displayed




Congratulations! You've now completed your instant USD deposit. You can check the status in Deposits.


Please note:
The name on your bank account must match the name on your Exchange account.
- To protect your account and to ensure the integrity of our trading system, we may place a hold on funds leaving the platform for up to 7 days. During this time, you will still be able to use your funds on the Blockchain Exchange to trade as normal. However, during the hold period, you will not be able to withdraw the equivalent value of these funds in both Fiat & Crypto


-ACH instant transfers have a maximum transaction amount of $5,000.

-Your bank may allow you to successfully link a savings or money market account, but please note that we highly recommend only linking checking accounts. Savings and money market accounts are subject to regulations that may limit your allotted number of transactions per month, and they don't always offer ACH transactions. Attempting to transfer from a linked savings or money market account may result in delayed, failed, rejected, or reversed transfers, as well as possible fees and limitations imposed by your bank.


-If you're unsure of your bank account status or transfer limitations, please check with your bank representative to be sure your account supports ACH transfers.
-Please make sure you have sufficient funds in your bank account to prevent a bank overdraft fee.