There are several reasons why you may be temporarily unable to withdraw some or all of the funds held in your Blockchain.com Account, Exchange or Rewards Account.
Holding periods

Account recovery

Limits
Holding period
If you've recently purchased crypto via card, ACH or Open Banking, your crypto may be subject to a holding period.
During a holding period, you cannot withdraw from your cash (GBP, EUR, or USD) account, send funds to your DeFi Wallet, or send to an external wallet.

You can still Swap within your Blockchain.com Account, transfer to your Passive Rewards Account, or sell to your Cash Wallet (GBP, EUR, or USD, depending on your region) and use those funds for additional orders.

Your wallet will show you the information on when the funds will become available for withdrawal.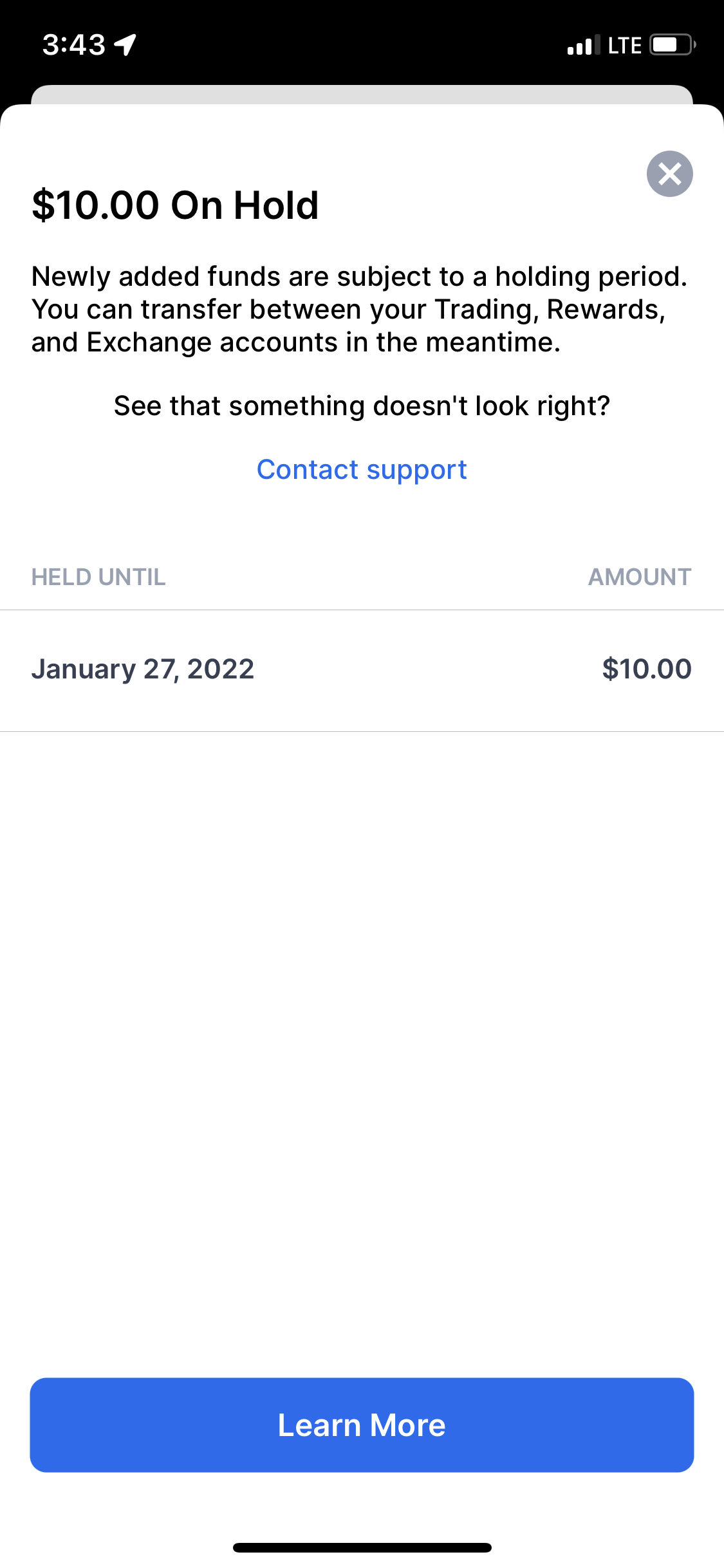 The duration of holding periods depends on the payment method you used to purchase.
For

card purchases

, a holding period of 3 days is applied to every card transaction, the amount of which is more than 1300 USD.

Thus, if you'd like to withdraw your funds to a DeFi Wallet or an external address, please wait 3 days (72 hours)

for the holding period to complete before doing so. The holding period is designed to protect you from fraud if your debit/ credit card was lost or stolen.

For purchases made through

ACH or Open Banking

, the holding period is up to 7 days.

More information on holding periods can be found here.
Account Recovery
In the event your 12 word backup phrase was recently used to recover your wallet, your verification may have been reset for security purposes. If so, you won't be able to withdraw until we have reconfirmed your identity.
To see if your account is verified, please navigate to Settings > Trading Limits and make sure that "Full Access" is displayed

If you do not have "Full Access" status, you'll need to proceed with Full Access verification.

To verify for Full Access, go to Settings > Account Limits and select "Verified Level" to proceed with verification.

Once you submit verification documents, a member of our team will review your application and we will be in contact if we need any more information from you. More information on account verification can be found here.
Limits
All verified Blockchain.com users can exchange unlimited amounts of cryptocurrency or fiat currency (e.g. USD) within their wallets.
There are, however, limits imposed on the transfer of funds to and from one's wallet.
More information about the limits can be found in this support article.


Withdrawing from Rewards Account
Each transfer made into your Passive Rewards Account is subject to a 7-day holding period, so if you have recently made a deposit, the funds can only be withdrawn after 7 days have passed.
Withdrawal availability and unbonding periods for Staking Rewards Account are determined by the protocol. You can withdraw your crypto once withdrawals are available and the unbonding period has passed.
Withdrawal requests from Active Rewards Account are processed only on Saturdays. If you don't withdraw your funds before Friday at 8:00am UTC, your assets will be automatically subscribed to the strategy for the following week. However, if you have requested a withdrawal before this time, your funds will be credited to your account on Saturday.